Happy Hour
Monday - Friday 3pm - 7pm
April Featured Entree's - Manicotti Florencia & N'awlins Pasta
Manicotti Florencia- Cheese-filled Pasta Tubes served on a bed of Thin Spaghetti, topped with Large Gulf Shrimp and a sautéed mixture of Fresh Spinach, Diced Tomatoes, Garlic, and Pavia Cream Sauce. Served with 2 pieces of Toasted Garlic Bread.
N'awlins Pasta- Large gulf shrimp, crawfish tails, Cajun seasoning, a diced medley of yellow, red, and green bell peppers, red onions, mushrooms, garlic, all sautéed in amber butter and served over a bed of spaghettini with a Cajun-seasoned Pavia cream sauce.
Also available as a family meal deal! 
The Benjamin Meal Deal
Our Customer Favorite entree, "The Benjamin", is now apart of our Family Meal Deal at a NEW LOWER PRICE!!
Large Gulf Shrimp • Diced Tomatoes • Amber Butter Mushrooms • Spicy Sausage • Cayenne Pepper Pavia Sauce • Served on a Bed of Pasta with House Salad and Garlic Bread.
$49.95 for a family of 4!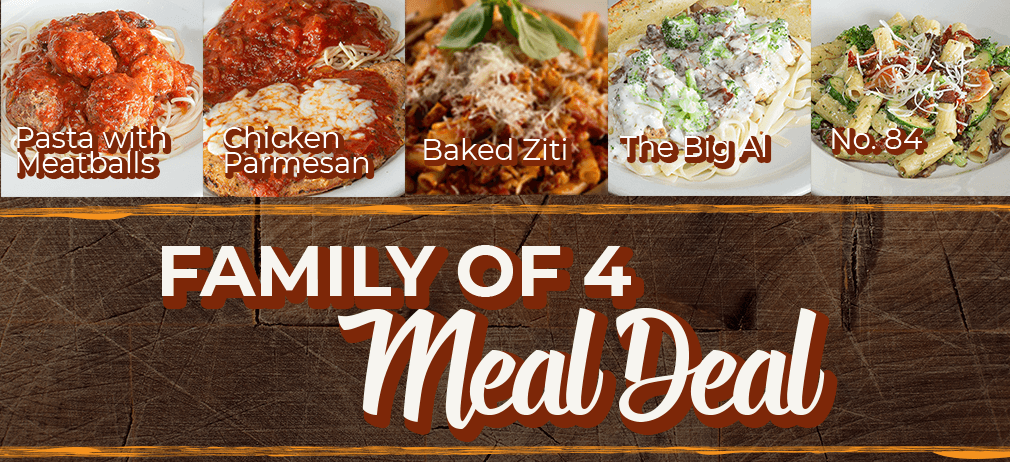 Family of 4 Meal Deal
Receive a pan of one of your favorite entrees, along with house salad & garlic bread for $40. We will bring it out to your car or pick up inside and it will be served Hot & Fresh!
* Not valid with any other offers, specially priced items, or discount
• Chicken Alfredo Pasta • Baked Ziti • Chicken ala Pallotta • Number 84 • Pasta with Meatballs • The Big Al • Chicken Parmesan with Pasta